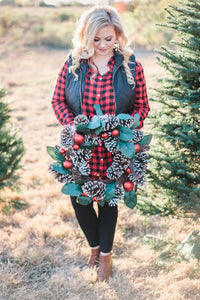 Being Prepared for the Holidays / A Thoughtful Guide to Celebrations
Regular price $47.00 Sale
Friends! Can you believe that the holiday season is right around the corner?
October, November and December are by far my most favorite months of the year! But if I am not prepared they can also be the most stressful.
As a holiday enthusiast, bucket list expert and thoughtful traditions specialist I have spent years perfecting how to be more prepared for the holidays so I can have more joy and less stress!
This September, I am going to be hosting an online workshop and teaching you all of my tips + tricks for a more enjoyable holiday season!
You will be learning how to manage your holiday calendar, how to prepare your kitchen, and how to love + serve others better all without feeling overwhelmed.
This is an event you don't want to miss!
Plus, you know I love to celebrate so we will have some fun too!
Grab a girlfriend, your mom or your sister and let's get to holiday planning!!
2 Weeks of Live Online Trainings (September 1 - 4) + (September 8 - 11) Recordings will be Available. 

Guilt Free Guide to a Less Frightful Halloween (Mini Ebook)

Guilt Free Guide to a More Grateful Thanksgiving (Mini Ebook)

Guilt Free Guide to a More Thoughtful Christmas (Mini Ebook)

Holiday Binder Downloads for October, November and December 

Private Facebook Group During Workshop 

Daily Q&A with Chelsey! 

Giveaways!