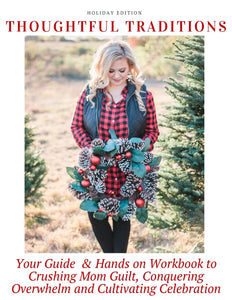 Thoughtful Traditions: Hands on Guide + Monthly Holiday Planner
Regular price $10.00 Sale
Friends! Can you believe that the holiday season is here?
During this season, my desire to help you create thoughtful traditions with your families has been elevated and experiencing moments that matter is more important than ever. 
I believe thoughtful traditions are made of the things that truly matter most and I can't think of anything better worth sharing.   
As a professional event planner, holiday enthusiast, bucket list expert and thoughtful traditions specialist I have spent years perfecting how to be more prepared for the holidays so I can have more joy and less stress!
I have created this hands on guide to help you crush mom guilt, conquer overwhelm and cultivate celebration. 
The first 35 pages are written ebook style specifically for you and the challenges we all face especially during the holiday season. We walk through expectations, guilt, overwhelm, schedules, boundaries, and calendars. I teach you how to cultivate celebration with systems, anticipation and reminiscing. 
The last 90 pages are hands on worksheets and checklist to help you have the most joyful celebrations all year long.  
This guide is the best gift you can give yourself this holiday season. This is a digital file that you will have access to immediately. Print it out, get to work and let's celebrate together with less stress and more joy! 
Your Hands on Guide to Crushing Mom Guilt, Conquering Overwhelm and Cultivating Celebration During the Holidays. 
Introduction

Expectations

Financial Guilt 

Commitment Guilt 

Bucket List Guilt 

Family Guilt 

Conquering Overwhelm 

Fierce Foundations 

Step One: Understand Your Value

Step Two: Identify Your Priorities 

Step Three: Build a Foundation Schedule 

Step Four: Mama Bear Boundaries 

Calendars 

Cultivating Celebration 

Systems

Step One: Prep 

Step Two: Set Up 

Step Three: Celebrate

Step Four: Clean Up 

Anticipate 
Remember 
Getting Started 
Holiday Action Plan 
Brain Dump 
Holiday Success Statement
Family Holiday Plan 
Holiday Binder Checklist
Printables (Monthly Checklist, Shopping List, Grocery List, Menu + Inventory)