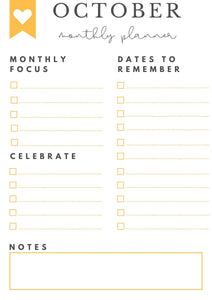 Freebie! October Monthly Goals + Celebration Worksheet
This simple worksheet is something I do every month.
I print it out and put it with my monthly bucket list, celebration prompts, and meal plan for the week. 
I have four clip boards on the back of my pantry and these tools help me live more thoughtfully and keep a celebration mindset.
This worksheet includes three sections: 
Monthly Focus: Write down the top things you want to accomplish this month. Writing them down and keeping them at the top of your mind is powerful. 
Dates to Remember: I want to love and serve the people around me as much as I can. Dates to remember can be birthdays, anniversaries or any special date that you want to remember so you can make the people in your life feel special. 
Celebrate: I want you to celebrate your small tiny wins. Write them down so you have proof that you are winning. Staying in this celebration mindset not only gives your more confidence but it propels you to reach your goals faster.